Shipping
We ship worldwide direct from our shop in South Carolina, USA. Orders are generally processed and shipped within 1 business day. If there are any issues with availability of items or compatibility with the parts you selected, we will reach out to you before shipping. We offer multiple shipping options at checkout based on the speed you would like to receive your order. See the map below to get an idea on how long standard shipping will take based on where you are located relative to us, and decide if paying for faster service is worth it to you. Generally overnight orders need to be in by 12:00 noon EST to be shipped same day, in order for you to receive it the next day, otherwise it'll go out the following day. But often we can accommodate overnight orders later in the day, if you are on a very tight timeline feel free to contact us first and see what service we recommend in order for you to receive it by your specific deadline.

Orders over $65 ship free within the US. All orders will receive a shipment confirmation with a tracking number, for US customers your package will be traceable from start to finish, for international orders your tracking number will show the status up until it leaves the US, from there you may or may not get consistent tracking updates (this depends on the shipping service you use, higher rate services come with better tracking, see below for more specific details). For international orders, it is your responsibility to know your countries import restrictions and customs charges, we can NOT be held responsible for any taxes or duties that are to be paid by you once the items you order arrive in your country.

We currently ship USPS, FedEx and UPS , we ship from Liberty, SC, 29657. If you would like to use your own UPS of FedEx account to ship, you can provide your account number and we will waive the postage charge, the postage will be billed directly to your shipping account.
After you order you will receive an order confirmation email with an order number and item summary. You will then receive another email when the order ships, this email will include a tracking number. Please make sure you get that first order confirmation email, in case the emails are going to your spam folder or you entered the wrong email address, you will not be in the dark as to your order status.
A note on tracking: It is not uncommon for tracking to not show up right away, we get bulk pickups here and each package isn't scanned on pickup, they get taken right to the distribution facility and are scanned that evening or the next morning as they're processed by the carrier. Just because it isn't tracking yet, doesn't mean it isn't shipped. If your tracking shows "delivered" but it didn't actually show up that day, please wait at least one more day as it occasionally happens that the carrier marks a package as delivered but it doesn't actually show up till the next day or so. If there are any glaring issues with the tracking of your shipment please contact us and we will look into it further.
For USPS shipping times see the list below.
For UPS shipping times the delivery time will be indicated in the service (ie, Overnight, 2-day, 3-day), or UPS Ground shipments can take from 1-6 days depending on where you are relative to us, use this map to determine UPS ground shipping time: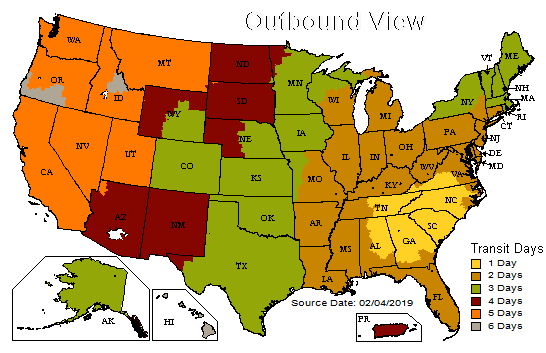 IMPORTANT NOTE ON SHIPPING TIMES:
Quoted shipping times are an estimate, and don't always factor in extenuating circumstances like postal delays during busy seasons, weather delays, customs delays (for international orders), mis-deliveries, etc. They also don't factor in delays that may be occurring on our end, or with inventory delays. For most customers who are not in a rush, you will not have to worry about this, the estimated delivery times are usually very accurate, we are usually very fast with shipping (or fast to let you know if we can't ship fast), and there are usually no hiccups in the delivery system that would cause any delays beyond a day or two. For customers who ARE in a rush, you should take the following into consideration:
Quoted delivery times are an estimate.

We try our best to ship fast, and we almost always do, but we can not guarantee against extenuating circumstances. We can guarantee that we will do our best, and let you know as soon as possible if we can't meet a fast deadline.

The estimated delivery time is based on when the order ships, not from when you place the order. For example, "2-days" does not mean if you order on Monday it guarantees it's delivered by Wednesday, it means "about 2 days from the time we ship". We almost always ship within 1 business day.

USPS and FedEx considers a "day" to be Monday to Saturday, not Sunday. UPS considers a "day" to be Monday to Friday, not Saturday or Sunday. For example: if you order Thursday evening and choose USPS Priority Mail with a 2-day estimate, and we ship on Friday, your estimated delivery will be Monday. If you chose UPS 2-day, your estimated delivery would be Tuesday. This is the same for UPS OVERNIGHT TOO, it is Monday to Friday service, not Saturday or Sunday! UPS does have the option to do Saturday delivery, but that is an extra charge in addition to whichever service you chose, and you would need to contact us to add that service manually.
Choosing to upgrade to a faster shipping service is your choice, and also your risk. For example if you choose "USPS Priority Mail" all that guarantees is that we will ship your item using USPS Priority mail, it does not guarantee your package will will arrive on the exact estimated day. We cannot refund the cost of expedited postage if your package doesn't arrive on time, or if there are any other problems with the order. We have a great return/exchange policy and will always work to correct any errors, and we can refund regular postage paid if the error is on our end, but we can not be expected to refund expedited postage, that is a risk you must decide is worth taking on your end if your schedule demands such a fast service.
Some services do have a money-back guarantee (usually UPS 2-Day and UPS Overnight), if a shipment qualifies for a refund due to the carrier not fulfilling their shipment guarantee, we will apply for that refund on your behalf and refund it back to you if the request is granted. UPS often changes their service guarantees (ie, money-back guarantee may be suspended, or the time-frame may be increased, during holiday season, weather or pandemic emergencies, etc). You can see an updated status of UPS money-back guarantee services here: UPS Service Guarantee Updates
For US shipments shipped via United States Postal Service:
- USPS First Class mail is considered a 2-5 day service. Average is 3 full days.
- USPS Priority mail is considered a 2-3 day service. This means that anywhere in the United States, if you choose Priority mail, it should be no more than 3 full business days from the time we ship to the time you receive your item. Priority Mail is very reliable, but there is NOT a money back guarantee if the service takes longer than expected! There is now a delivery time map you can check, go here and enter "29657" as the shipping zip code to see estimated Priority mail time from us to you: https://www.usps.com/priority-mail/map/
- USPS Priority Express mail is guaranteed overnight service to anywhere in the US*. It will arrive on the next business day from when we ship, in most cases by noon. Please note that if you order late in the day we may not be able to make the deadline for that day, and the package will go out the next day. (*NOTE: USPS now lists Express as 1-2 business day delivery. It will be 1 day (overnight) to about 95% of the country, the exception being small pockets that will now be a 2 day delivery. Our webpage should give you a delivery estimate, or you can check the delivery time to your location on the USPS webpage: enter a shipment from us at 29642 to your zip code, choose Priority Express shipping, and it will tell you your delivery time, either 1 or 2 days.) If you are on a tight schedule, please email us first to make sure we can get it out in time for you.
* We offer FREE SHIPPING to US addresses for orders over $65. If you choose this option we will select the shipping method that is most economical, usually First Class mail for small orders, Priority mail or UPS Ground for larger orders. Or, feel free to purchase an upgraded shipping option if necessary.
For International shipments:
- USPS First Class mail international can take anywhere from 1 week to 4 weeks depending on many factors, including your country, location, import process and customs wait times. Average delivery time is about 2 weeks, but this is certainly not guaranteed. The tracking info will show the packages status up until it leaves the United States, after that you may or may not see updates, depending on your country. This is the most affordable service for most small to medium sized orders, but if you can't afford to potentially wait a long time, you should consider an upgraded service
- USPS Priority mail international is considered a 6-10 business day service*. Usually this is very accurate, but again it also depends on things like customs wait times and other factors. Usually the tracking info is also better than First Class mail, but again it is not always complete. It is a much better service than First Class mail, but if you need the item faster, consider the next option, Express mail:
- USPS Express mail international is considered a 3-5 business day service*. This is the fastest and most reliable international service we ship with.
* For International shipments, these time-frames DO NOT factor in possible wait/processing times at customs. That can extend the delivery time and is completely out of our control. If you wish to use a private carrier such as UPS that option is available, they tend to be much faster but can also be more expensive than public courier like USPS. (US to Canada UPS rates are very competitive, often times cheaper than USPS on large orders, so check the rates yourself). If you have your own shipping account with a carrier you can also set up the shipment on your end, pay the fee, and send us the shipping/label info to ship (contact us and we will waive the shipping charge on your order). Please note that our prices DO NOT INCLUDE any potential additional charges that customs in your country may levy with regards to importing merchandise (taxes, VAT, duties, etc). Often with small orders countries will not bother with these charges, or excuse them up to a certain value, every country is different though and we can not be held responsible for these charges. If you get hit with a tax charge you are not comfortable with, you can always decline the shipment, we will refund your order when it is returned but we CANNOT REFUND WHAT YOU PAID IN POSTAGE, that money will be lost.
******Private couriers like UPS may also charge additional brokerage fees in order for you to claim your package, that is something to consider if you choose them instead of USPS for international shipments!*******